News & Announcements
Income Tax Seminar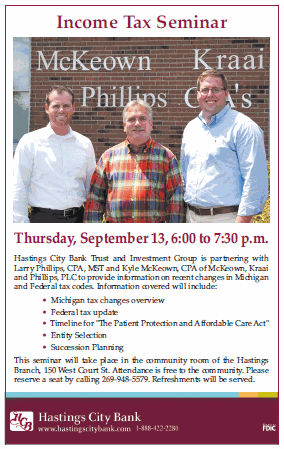 Highpoint Community Bank Trust and Investment Group is partnering with Larry Phillips, CPA, MST and Kyle McKeown, CPA of McKeown, Kraai and Phillips, PLC to provide information on recent changes in Michigan and Federal tax codes. Information covered will include:
• Michigan tax changes overview
• Federal tax update
• Timeline for "The Patient Protection and Affordable Car Act"
• Entity Selection
• Succession Planning
This seminar will take place in the community room of the Hastings Branch, 150 West Court St. Attendance is free to the community. Please reserve a seat by calling 269-948-5579. Refreshments will be served.