News & Announcements
Estate Planning Workshop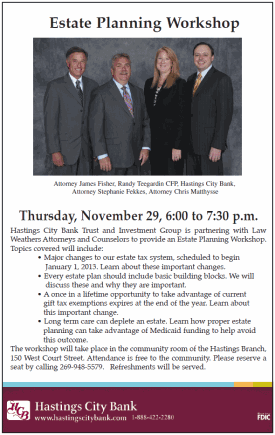 Highpoint Community Bank Trust and Investment Group is partnering with Law Weathers Attorneys and Counselors to provide an Estate Planning Workshop.
Topics covered will include:
• Major changes to our estate tax system, scheduled to begin
January 1, 2013. Learn about these important changes.
• Every estate plan should include basic building blocks. We will
discuss these and why they are important.
• A once in a lifetime opportunity to take advantage of current
gift tax exemptions expires at the end of the year. Learn about
this important change.
• Long term care can deplete an estate. Learn how proper estate
planning can take advantage of Medicaid funding to help avoid
this outcome.
The workshop will take place in the community room of the Hastings Branch,
150 West Court Street. Attendance is free to the community. Please reserve a
seat by calling 269-948-5579. Refreshments will be served.